I'm conflicted.
I'm conflicted because I've driven a car which definitely has a spot within my all-time favorites. This Brilliant Black Audi S3 Prestige with the Dynamic Package carried myself and two passengers through 100 miles of the worst torrential downpour seen in Northern California for years. The Quattro all-wheel drive kept guard on the rain soaked tarmac, and I was calm and composed in the cabin listening to a mix of 2000s hip hop. And after I and the Audi parted ways the next morning, I reflected on my time and the one nagging demerit which was inherent to the Audi S3. Its size.
Do bear in mind that the Audi S3 is a spectacular car on its own, many merits. Its turbocharged two liter inline-four knocks on the door of 300 horsepower, and the S3 sprints up to 60 mph in under 5 seconds. Lean on the gas pedal and at any speed, it overtakes with the intensity felt in cars with V8's, not middling inline-fours- (having said that, at speed it does drink fuel like a V8; we averaged 21mpg over our trip). It hasn't a hint of roll at speed, and the optional Audi Magnetic Ride allows you the confidence to cruise through sweeping mountain roads at great speed.
Audi's nowadays are becoming iPhones on wheels. The level of technology in the S3 (and in fact across the whole Audi lineup now) is immense, starting with the crystal clear LCD screen replacing the analog instrument binnacle. Welcome to 2017, everyone. In the center of the dash, you get Audi's intuitive MMI system, operated through a dial in the center console. The navigation system is simple to operate and has nifty handwriting recognition, but misses voice recognition for some frustrating reason. Audi refrained from using a touch screen which was a clever choice, given how hard it is to touch an option correctly at a bumpy speed. I also loved that the screen neatly slides back into the dash with the touch of a button.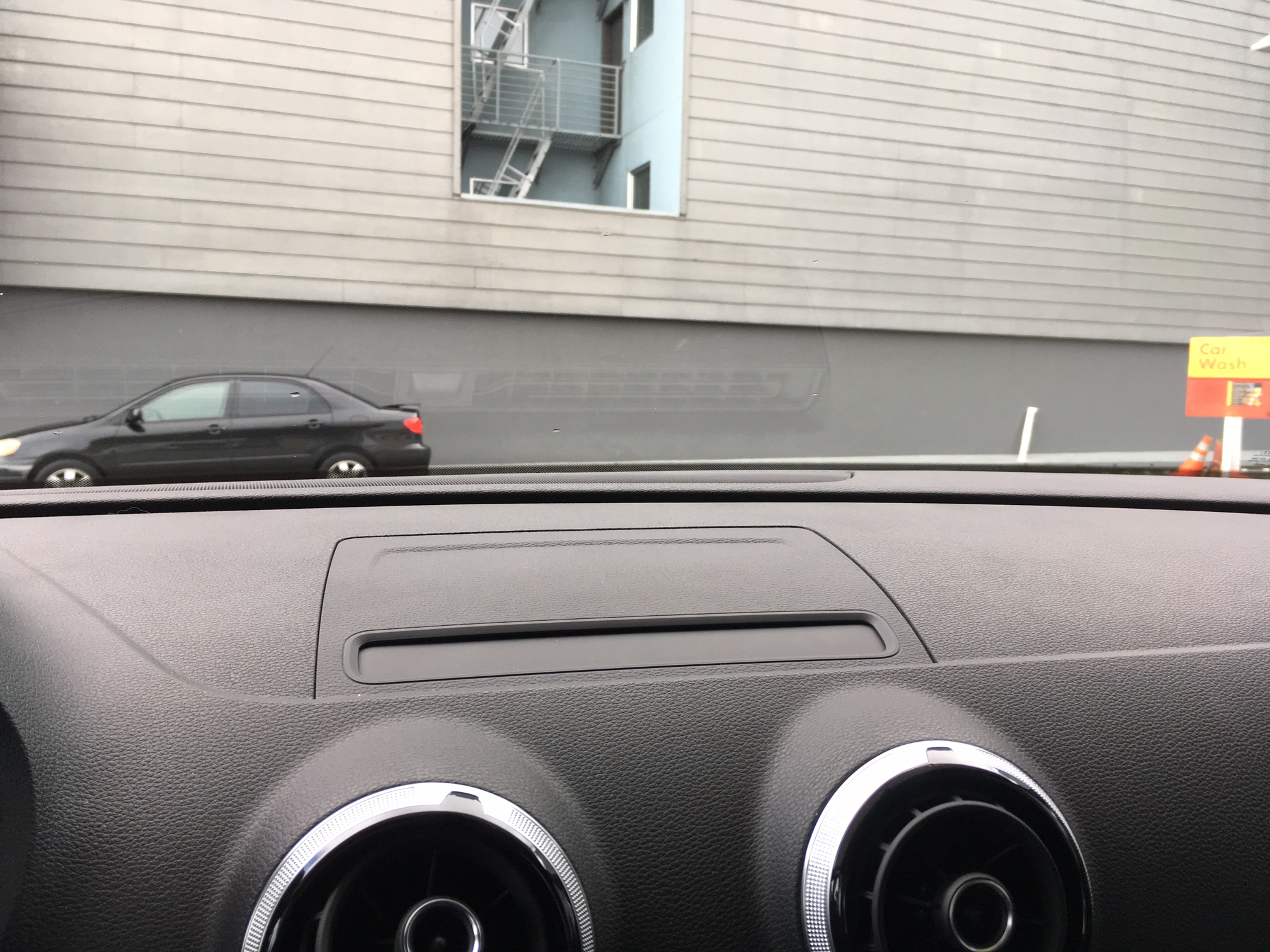 At speed through Interstate 280 in the dead of night, I enjoyed the S3 in its most comfortable setting. It countered the pouring rain outside and carried on unfettered, cruising past skittish two-wheel drive cars through the entire distance. But while I may have felt confident at that speed, my passengers were far from it. They noted feeling very unsettled at speed, especially since the Audi S3 does bob and bounce on road surfaces where normal cars would glide. They certainly weren't feeling as happy as I was while driving, and now we can circle back to my earlier confliction.
I'll preface my thought by saying that I am not a vehicle dynamics engineer (obviously), and that my only understanding of vehicle dynamics comes from my years of expertise playing Forza Motorsport 2-6. So here's my high-level explanation of my issue with the S3: smaller cars with tightly sprung setups allow them to have evermore road holding grip. They're fun to drive because you can feel everything on the road. Think of the difference between the Focus ST and the Fiesta ST. The Fiesta is arguably the more engaging and fun car because it's perky, and has such little mass to throw around when compared to the Focus. And while its size allows the driver to feel everything, its size makes the driver feel everything. Every bump in the road, every slope, and every road surface change travels straight into the cabin because there's no other place for that energy to dissipate. The S3's 19inch wheels and stiff magnetic ride control don't do its ride comfort any favors; my passengers were even scared during moments when I was having the most fun driving (I'm apparently a sadist now). And if a car the size of the S3 has 300 horsepower, it doesn't matter whether it has all-wheel drive, it is going to feel scary at speed. And for the most part, it'll be uncomfortable there too.
And this is where I'm conflicted. The features which make this car so special are the very features which make this car harsh. The S3 functions supremely well as a performance car, but I do think a great deal of comfort is compromised as a result. Your opinion may differ, but 300 horsepower from the factory in a car smaller than a Jetta seems close to overkill.
But to be honest, this is but a talking point. Because in spite of its harshness, if I were car shopping and found myself with the chance to have an S3, I'd have a very, very tough time saying no. Honestly, it's an unforgettable package. Everyone who has had the chance to drive it has come out with nothing but clenched fists and giddy smiles. And when they asked the magic, "How much is it?" question, they groaned like they got outbid on The Price is Right. We are, after all, mere mortals with monthly budgets.
The S3 is the attainable car of your boyhood dreams, and it's wrapped in the grown up costume of sharp LED headlamps and a shiny chrome grill. It may not look special to the world outside, but the S3 makes you feel you've got a concealed weapon hidden on you. It's the equivalent of showing up to a cocktail party with a tuxedo and a silenced Walther PPK tucked in your jacket.
Damn it, I swore I wouldn't make a James Bond reference.